Norwegian Home Guard, Minnesota National Guard Troops Train with Local Law Enforcement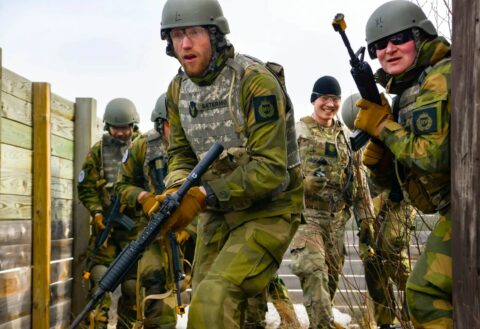 April 2, 2022 (Little Falls, Minnesota) – Camp Ripley hosts local law enforcement who will provide asymmetric training to Minnesota and Norwegian Home Guard troops during the 49th Norwegian exchange.
"Camp Ripley and the Minnesota National Guard have always been able to respond to any situation that the State of Minnesota requires us," said Army Brig. Gen. Lowell Kruse, the Minnesota National Guard's Assistant Adjutant General and Camp Ripley's Senior Commander. "Being able to partner with the Norwegian Home Guard and conduct this training with our law enforcement partners during the 49th annual Norwegian exchange program is something unique and incredibly valuable."

The asymmetric threat training will consist of three stations taught by St. Cloud's Police Department, Morrison County Sheriff, and the Washington County Sheriffs' office. The stations consists of active shooter response, armored vehicle rescue, and hostage rescue. This will be a two-day training exercise, with the first day consisting of hands-on instruction to our Norwegian Home Guard partners and participating Minnesota National Guard service members. Each event will be repeated to account for different perspectives and scenarios and allow the Norwegian Home Guard soldiers ample time to train with local law enforcement.

"This year, we welcomed back our Norwegian partners to Camp Ripley and Minnesota, and we truly appreciate our local law enforcement providing such great training, and to be able to share it with the Norwegian Home Guard is something truly unique," said Army Lt. Col. Christopher Ward, Camp Ripley Training Center's Chief of Operations. "We have worked all year long on welcoming our partners from Norway back after a two-year pause due to COVID, and this is a perfect way to cap off such a successful event and build toward our 50th Anniversary."