Rabbi Kamil Joins Minnesota National Guard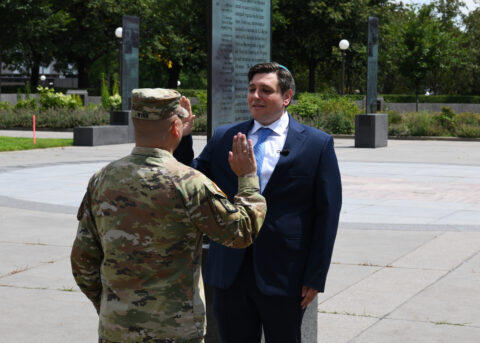 (July 15, 2022) ST. PAUL, Minn.- Tomorrow, the Minnesota National Guard will conduct a swearing-in ceremony on the stairs of the Minnesota State Capitol for Rabbi Kamil, adding to the diversity within the chaplain section.

"I have always wanted to join the military," remarked Rabbi Frederick Kamil. "To serve those who serve
that's how I want to be a Rabbi."

"The Minnesota National Guard places a high value on the rights of our personnel to exercise their rights
to religious freedom," said Army Colonel Buddy Winn, the Minnesota National Guard's State Chaplain. "Our unit ministry teams strive to provide timely and effective religious support to all our service
members, regardless of faith tradition or affiliation. Adding Rabbi Kamil to the chaplaincy helps us to
reach an even more diverse audience, which enhances the spiritual resilience of the force."

The Minnesota National Guard has just under thirty chaplains in the state, representing more than 20
denominations. One of the Guard's priorities is people, and diversity in the chaplains assists with
inclusion efforts within the organization.

"I have been a chaplain since 2003, and during this time and perhaps longer, the Minnesota Guard has
not had a rabbi within its ranks," said Winn.

Chaplains are responsible for tending to the spiritual well-being of service members and their families,
overseeing religious ministries, counseling sessions, and more. The ceremony will formalize Rabbi
Kamil's entrance into the Minnesota National Guard.

Media are welcome to attend the ceremony being held on the Minnesota State Capitol steps, located at
75 Rev Dr. Martin Luther King Jr Blvd, St. Paul, Minn., at 12 p.m., Saturday, July 16th.

Media members interested in attending should RSVP to the Minnesota National Guard Public Affairs
Office at 651-282-4410 or mn.ng.web.mail.mil.

About the Minnesota National Guard –
Established in 1856 and headquartered in St. Paul, the Minnesota National Guard has more than 13,000
Soldiers and Airmen who serve in 58 communities across the state. The Citizen-Soldiers and Airmen of
the Minnesota National Guard are 'Always Ready' to fight the nation's wars, protect the country,
respond to state emergencies, and contribute to local communities. For more information about the
Minnesota National Guard, visit https://MinnesotaNationalGuard.ng.mil.