Red Bull PSYOPS Team Seeks Officers for Challenging, Rewarding Career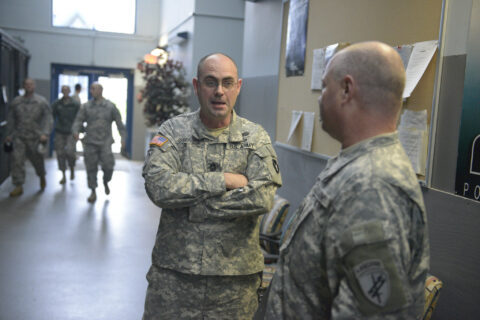 By Staff Sgt. Aaron Borgerding
34th Red Bull Infantry Division Public Affairs
ROSEMOUNT, Minn. (May 30, 2017) – "We are cultural communication experts," said Master Sgt. Eric Christoffel, the Minnesota National Guard's 34th Red Bull Infantry Division senior Psychological Operations (PSYOPS) non-commissioned officer (NCO). "The main function of the Psychological Operations section is to use communications to influence the human attitudes and behaviors of foreign nationals."
The PSYOPS section consists of a small contingent of NCOs and commissioned officers. This unique section is responsible for many tasks such as advising the commander on issues concerning foreign nationals, influencing foreign populations to support U.S. operations, creating a positive image of U.S. forces, gathering intelligence, and much more.
Christoffel began his military career as a calvary scout. "I started in a different career field and was drawn to psychological operations for the unique challenges it presents."
PSYOPS missions often involve working closely with another unique career field – Civil Affairs.In recent deployments, Red Bull PSYOPS and Civil Affairs personnel have tackled this unique mission by handing out food, water, shelter, clothing, and other necessities to needy foreign nationals to persuade them to assist U.S. forces. They have also created radio stations in foreign countries to disseminate information to a populace that receives much of their current events information through radio media.
"Warrior diplomats, is the term often used to describe the Civil Affairs team; It is the best job in the Army, in my opinion," explained Staff Sgt. Chet Bodin a Civil Affairs NCO for the Red Bulls. "This rewarding career field gives perspective on how the Army interacts with the world while making a difference in these communities."
Civil Affairs teams work with communities to fix issues facing their population. Often times, this includes establishing or rebuilding infrastructure. By meeting with local leadership within varied communities, Civil Affairs personnel gather information from community leadership and provide it to their military leadership and vice versa.
"One very big advantage of exploring these career areas early in an officer's career is that the Army now allow senior Lieutenants and Captains the ability to complete their Captains Career Course requirements through the Civil Affairs or PSYOPS branch," said Maj. Eric Magistad, the division's PSYOPS chief. "Once this educational regimen is complete, an officer is considered branch qualified in either Civil Affairs or PSYOPS."
"Periodically, there are openings across the Division for interested Soldiers," said Magistad. "As the Minnesota National Guard's branch manager for PSYOPS, I welcome interested Service members to contact me so that we can start a conversation. The pursuit of one or more of these career areas does kind of pigeon-hole you into a staff specialty, but the career progression from Captain to Lieutenant Colonel is definitely attainable for successful officers."