Red Bull Soldiers Support Successful Bilateral Training Exercise with Japan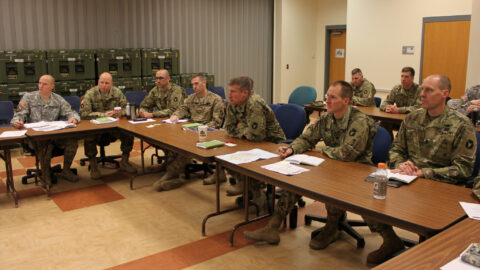 By Capt. Sara Behr
34th Red Bull Infantry Division Public Affairs
JOINT BASE LEWIS-MCCHORD, Wash. (Dec. 19, 2016) – Soldiers of the 34th Red Bull Infantry Division, based in Rosemount, Minn., recently traveled to Joint Base Lewis McChord, Washington, to participate in Yama Sakura 71, a bilateral training exercise in support of the U.S. and Japan military partnership. The scenario was designed to bring a new challenge to the division staff.
"Training at the division level is vastly different from the company or battalion [level] because it shifts the focus from tactics to predicting and shaping the operational environment," said Maj. Colin Fleming, division military intelligence officer.
While senior leaders worked through the challenges of the scenario to shape the battle, staff sections continued to fine-tune processes and create growth opportunities for junior enlisted.
"Each Soldier in my section is fulfilling a role designated for one level up," said Fleming. "By creating opportunities like this, it builds confidence and sets up my team for success not only for this exercise, but also for the future."
Red Bull Soldiers worked indirectly with Japanese forces during the exercise, and understanding how their military operates provided them with vital experience.
"Culturally, the two militaries see warfare differently," said Maj. Sam Andrews, division planner. "This exercise brings us together to create a shared understanding." Andrews is a graduate of the School of Advanced Military Studies (SAMS), the U.S. Army's premier graduate-level schoolhouse designed to create agile and adaptive leaders who are able to solve complex problems and offer viable solutions to commanders. Just five percent of the 1,500 seats at the schoolhouse are dedicated to National Guard officers.
This shared understanding developed over daily conference calls between division staff, the higher headquarters and their Japanese counterparts. Through translators, each side briefed key information relevant to the group creating a common operating picture of both militaries' actions.
Yama Sakura, translated from Japanese as "Mountain Cherry Blossom", is an annual, bilateral computer exercise that simulates Japanese-U.S. military operations required to defend Japan. Yama Sakura is sponsored by U.S. Army Japan (USARJ) and the Japanese Ground Staff Office. Every year, one of the five regional Japan Ground Self-Defense Force (JGSDF) Armies partners with U.S. Army I Corps to conduct the exercise in Japan and the United States.
The Red Bulls are aligned for training with U.S. Army I Corps. U.S. Army I Corps provides a 3-star general level Joint Task Force-capable headquarters executing mission command over tailorable, scalable, and regionally-aligned conventional forces, fully integrating other service components to conduct unified land operations for the U.S. Pacific Command Commander and other combatant commanders globally.