Red Bulls move vehicles for partnership exercises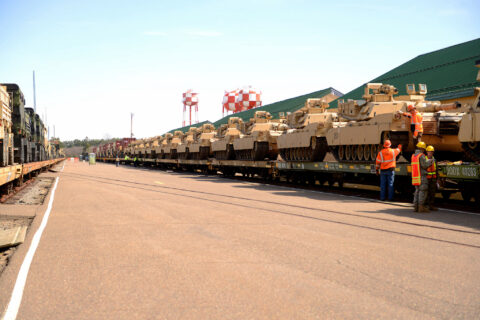 By Staff Sgt. Anthony Housey
Camp Ripley Public Affairs
CAMP RIPLEY, Minn. (April 12, 2017) – Soldiers of the 1st Armored Brigade Combat Team, 34th Infantry Division wrapped up a week-long rail load operation Sunday at Camp Ripley in preparation for several upcoming international training exercises.
Vehicle crewmen from the 2nd Combined Arms Battalion, 136th Infantry based in Moorhead, worked with railroad personnel from BNSF Railway to stage, load and secure their equipment in preparation for movement.
"It was a lot of work and lessons learned, but it was awesome seeing the completed product," said Sgt. 1st Class Brian Reiten, readiness non-commissioned officer for C Co., 2nd Combined Arms Battalion, 136th Infantry.
The Minnesota National Guard teams worked to load and secure each vehicle used by the units taking part in the exercise. The vehicles — ranging from tanks and armored vehicles to trucks — were secured to flatbed cars. Equipment for the unit was also loaded into packed CONEX boxes and loaded onto the train for shipment.
"First brigade has a history of building relationships through partnerships and employing troops to support various missions around the globe," said Capt. Paul Modeen, the public affairs officer for the 1st Armored Brigade Combat Team.
The U.S. Army Europe-led Operation Saber Strike is an international training exercise that aims to strengthen interoperability among allied countries. This June, staff members of the 1st Armored Brigade Combat Team will travel to Latvia alongside the troops of the 2nd Combined Arms Battalion, 136th Infantry to take part in the multi-national training event. The exercise will test brigade-level command post operations, as well as provide company-level situational and field training.
"There is a commitment to ensuring our Soldiers are highly-trained, which makes us the perfect match to support and enhance the military capabilities of our allies abroad," Modeen said.
Since early January maintenance personnel and staff on Camp Ripley have assisted the 1st Brigade in meeting readiness requirements for their upcoming movements overseas by providing resources such as weapons qualification ranges, mechanical support and logistical aid.
As NATO and European allies continue to sharpen their ability to assemble rapid-reaction forces and deploy them where needed on short notice; an exercise like Sabre Strike offers an effective proving ground for those skills.
"The upcoming training opportunity with our European allies is just one of many examples of how the Minnesota National Guard is always ready to support our neighbors at home and our friends abroad," concluded Modeen.