Senior enlisted conference offers Red Bulls opportunity to network, develop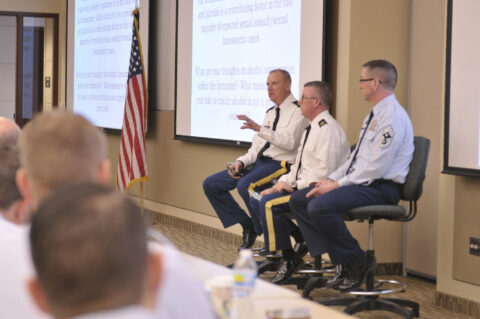 By Master Sgt. Ashlee Sherrill
34th Red Bull Infantry Division Public Affairs
CAMP RIPLEY, Minn. (Jan. 31, 2017) – Nearly 150 Soldiers and Airmen gathered as enlisted leaders at Camp Ripley to discuss issues important to the non-commissioned officer corps in the Minnesota National Guard, providing an opportunity for Red Bull leaders to network and develop their leadership skills.
The Joint Senior Enlisted Leader Conference is open to all Minnesota National Guard senior enlisted leaders, both Army and Air Guard. It provides a chance for senior enlisted leaders to meet with their peers, share ideas and develop the NCO corps for future generations.
"This conference is one of the few opportunities for us to come together to gain a shared understanding of our roles as senior enlisted leaders," said 34th Red Bull Infantry Division Command Sgt. Maj. John Lepowsky. "One of the biggest challenges that any National Guard leader faces is the time commitment it takes in order to be a good leader. Having this opportunity to talk about and discuss issues affecting both Army and Air Guard NCOs is invaluable."
Attendees agree. Command Sgt. Maj. Stephen Whitehead with the 1st Battalion, 125th Field Artillery said he appreciated having the opportunity to hear from other leaders about their challenges. Often times, other leaders will be experiencing the same issues within their units, but they may not know it because there isn't always a chance to talk to peers; they are the top of the chain within our units.
"One shared challenge we discussed was the limited amount of time we have with our Soldiers," said Whitehead, a Rosemount, Minn., native. "There are so many priorities and things we need to get done at drill. It's tough to balance it all.
"We've come up with different approaches to this issue. One way we can help juggle all of the priorities is through monthly phone calls prior to drill. When we're on the call, we can get our leaders on the same page so at drill things run smoothly. We also talked about establishing expectations for our new, younger leaders. We need to make sure they are aware of the need to juggle priorities so that it's not a shock to them when they step into a leadership role."
"This conference serves as a great reminder that there are several parts to leadership," said newly-promoted Company C, 834th Aviation Support Battalion 1st Sgt. Ricky Mathison, a Monticello, Minn., native. "It's helpful to hear the variety of topics from both Army and Air Force perspectives. I can take a broader leadership approach back to my Soldiers and the unit.
"I really enjoyed hearing the keynote speaker," Mathison said. "He provided some helpful practices, approaches and information that we all can take back to our units."
The key note speaker, Mr. Jerry Perez from the Profession of Arms Center of Excellence, spoke of commitment and encouraged attendees to evaluate why they were where they were and asked them how they inspire that same commitment in their Soldiers and Airmen.
"There's always room for improvement," Perez said. "If you say that you're already the best you can be, you've already failed. Professionalism is the art of leading yourself. It's what brings together values and the mission." He encouraged leaders to never sacrifice their values in order to complete their mission.
The two-day seminar also included lectures and discussion on resilience and readiness, blended retirements, boarding processes, the Global Combat Support System, and other relevant topics. The state Senior Enlisted Advisor, Command Sgt. Maj. Doug Wortham, oversees the program development along with the Senior Enlisted Management Board which assists and recommends topics to cover during each year's conference.
The Army National Guard has been conducting the conference annually for nearly a decade; the conference was extended to also include the Air National Guard since 2013.