Soldier finds peace during memorial ceremony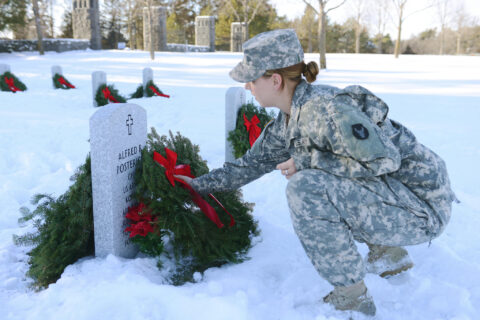 By Staff Sgt. Anthony Housey
Camp Ripley Public Affairs
CAMP RIPLEY, Minn. (Dec. 11, 2016) –Family members, veterans, Service members and volunteers from the surrounding communities gathered at the Minnesota State Veterans Cemetery, Dec. 17, 2016, for the annual Wreaths for the Fallen event sponsored by WreathsForTheFallen.org.
"It was such an amazing event despite the weather," said Spc. Lindsey Posterick. "I was proud at how many people came out to help place wreaths."
December 17th is recognized as the National Wreaths Across America Day, which includes the placing of wreaths on the graves of our honored service members who have passed away.
At the Minnesota State Veterans Cemetery near Camp Ripley in Little Falls, over 4,500 wreaths were placed on the head stone or in the memorials of the Soldiers, Marines, sailors, airmen, Coast Guard and Merchant Mariners who served our country.
One of these honored headstones marks the grave of U.S. Army Cpl. Alfred R. Posterick of Randall, who passed away on June 11, 2016. Posterick served in Korea as an infantryman until returning home 1952. His granddaughter, Spc. Lindsey Posterick, is currently a member of the Minnesota National Guard and works in supply for G Company, 134th Brigade Support Battalion as well as full time for Camp Ripley.
Spc. Posterick's grandfather passed away while she was taking part in a rotation at the National Training Center in Ft. Irwin California with the 1st Armored Brigade Combat Team, 34th Infantry Division.
"I was sad to not have been able to be there, it was something that was difficult for my family to tell me about," she said.
Closure came for both Lindsey and her family during the annual Wreaths for the Fallen ceremony at the State Veterans Cemetery on Dec. 17. Following the short ceremony, she and her family were able to place wreaths on the headstones of her grandfather and grandmother, something she was unable to do since she got back from training in July.
Spc. Posterick looks back on her family's service in the military as the inspiration for why she joined the Minnesota National Guard.
"My dad served, my grandpa served, so I decided to carry out the military tradition in my family. I wanted to be able to protect my family and everything America stood for," she said.
"My grandfather was the example of motivation," continued Posterick. "He and his sons built our family farm from the ground up, their determination is what drove me to make a career out of the military.
In addition to the State Veteran Cemetery near Camp Ripley in Little Falls, the Wreaths for the Fallen volunteers placed wreaths at Veteran cemeteries in Duluth, Preston and Redwood Falls.