Spc. Carlos E. Wilcox IV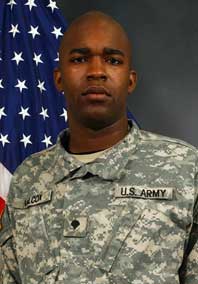 Age: 27
Hometown: Cottage Grove, Minnesota
34th Military Police Company
Died: July 16, 2009 in Basrah, Iraq
Spc. Carlos E. Wilcox, 27, of Cottage Grove was killed in combat.  He was assigned to the 34th Military Police Company in Stillwater, Minn.  Spc. Wilcox was killed when Contingency Operating Base Basra was attacked by indirect fire Thursday, July 16 at approximately 9:15 p.m Iraq time.
Spc. Wilcox was born April 29, 1982 in Golden Valley, Minn. He graduated from Tartan High School in Oakdale, Minn. He enlisted in the Minnesota Army National Guard March 15, 2006 after a short break in service from the United States Army Reserve.  He graduated from the Health Care Specialist Course at Fort Sam Houston, Texas in November 2006 and was assigned as a 68W Health Care Specialist to the 204th Medical Company in Cottage Grove, Minn.
He transferred to the 34th Military Police Company June 1, 2008. On March 2, 2009, he deployed to Iraq in support of Operation Iraqi Freedom.
Carlos' friends in the 1st Platoon, 34th Military Police Company described him as a good friend and a good Soldier.  As much as his friends in the unit found it fun to joke around with him, they were always somewhat amazed by how professional and astute Wilcox was. "Wilcox always took care of us," said one 1st Platoon Soldier. "If anyone was hurting or had a medical issue, he took care of it."
Carlos, who graduated from Metropolitan State University with a bachelor's degree in biology, had aspirations of going to medical school and becoming a doctor.
SPC Wilcox is survived by his mother Charlene Wilcox.
Additional Links
https://www.findagrave.com/memorial/39565381
https://www.twincities.com/2009/07/17/3-minnesota-soldiers-die-in-iraqi-assault/
https://www.mprnews.org/story/2009/07/17/soldierskilled
https://www.legacy.com/obituaries/twincities/obituary.aspx?pid=130184073
https://thefallen.militarytimes.com/army-spc-carlos-e-wilcox-iv/4196349
https://www.leg.state.mn.us/docs/2010/other/101583/www.governor.state.mn.us/mediacenter/pressreleases/printerfriendly/PROD009615.html
http://www.kttc.com/story/10747051/three-minnesota-national-guardsmen-killed-in-iraq
http://www.startribune.com/last-salute-to-cottage-grove-soldier/51586732/
https://www.dvidshub.net/news/91629/memorial-dedicated-fallen-34th-mp-soldiers
https://www.twincities.com/2009/07/17/more-details-emerge-on-deaths-of-3-minnesota-soldiers/
http://www.hastingsstargazette.com/news/939130-woodbury-cottage-grove-soldiers-killed-iraq-are-identified
https://www.twincities.com/2009/07/18/condolences-pour-in-for-3-slain-minn-soldiers/