Spc. Daniel P. Drevnick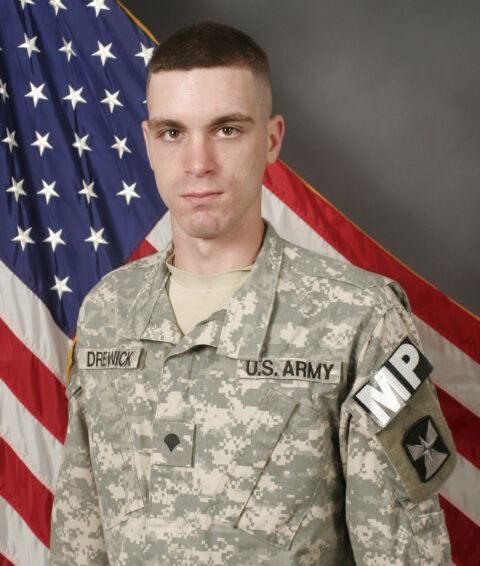 Age: 22
Hometown: Woodbury, Minnesota
34th Military Police Company
Died: July 16, 2009 in Basrah, Iraq
Specialist Daniel Paul Drevnick, 22, of Woodbury was killed in combat.  He was assigned to the 34th Military Police Company in Stillwater, Minn.  Spc. Drevnick was killed when Contingency Operating Base Basra was attacked by indirect fire Thursday, July 16 at approximately 9:15 p.m Iraq time.
Spc. Drevnick was born April 13, 1987 in St. Paul, Minn.  He graduated from Woodbury High School and enlisted in the Minnesota Army National Guard March 28, 2005.  He graduated from One Station Unit Training as a 31B, Military Police at Fort Leonard Wood, Missouri.  On March 2, 2009, Spc. Drevnick deployed to Basra, Iraq with the 34th Military Police Company in support of Operation Iraqi Freedom.
Spc. Drevnick, who planned to get a degree in law enforcement, was attending Century College in White Bear Lake, Minn. before the deployment.   He was also a drag racing partner with his dad and raced his Mitsubishi Lancer Evolution at tracks all over the Midwest.
Spc. Drevnick felt that his unit was part of his family and when he returned from his R&R, he said that he was happy to back with family.  "Drevnick was a great Soldier, but an even greater friend. Dan always had an excellent attitude and an ability to bring people out of bad moods."
Spc. Drevnick is survived by his mother Roberta Freese and his father Ken Drevnick.
Additional Links
https://www.twincities.com/2009/07/17/3-minnesota-soldiers-die-in-iraqi-assault/
https://www.mprnews.org/story/2009/07/17/soldierskilled
http://www.kttc.com/story/10747051/three-minnesota-national-guardsmen-killed-in-iraq
https://www.dvidshub.net/news/91629/memorial-dedicated-fallen-34th-mp-soldiers
https://www.twincities.com/2009/07/17/more-details-emerge-on-deaths-of-3-minnesota-soldiers/
http://www.hastingsstargazette.com/news/939130-woodbury-cottage-grove-soldiers-killed-iraq-are-identified
https://www.twincities.com/2009/07/18/condolences-pour-in-for-3-slain-minn-soldiers/
http://www.startribune.com/a-fallen-soldier-s-dream-carries-on/142729845/
https://thefallen.militarytimes.com/army-spc-daniel-p-drevnick/4196333
https://www.legacy.com/obituaries/twincities/obituary.aspx?n=daniel-p-drevnick&pid=130014549
http://www.woodburybulletin.com/news/958618-woodbury-soldier-killed-2009-honored-comrades
https://www.leg.state.mn.us/docs/2010/other/101583/www.governor.state.mn.us/priorities/governorsorders/flagsathalfstaff/2009/PROD009611.html
https://www.findagrave.com/memorial/39565349/daniel-paul-drevnick