Spc. James D. Wertish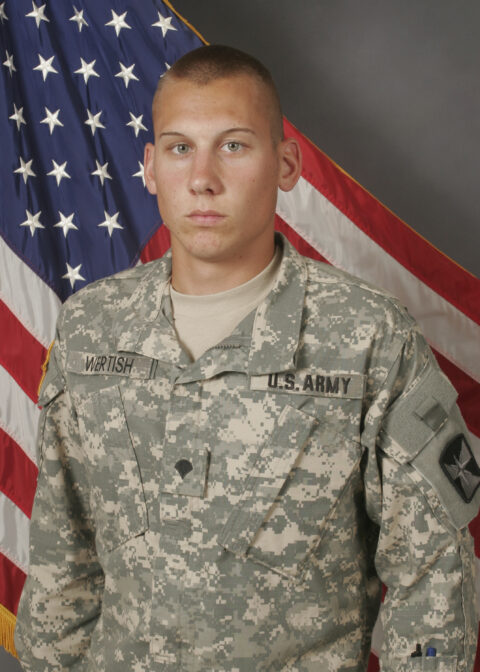 Age: 20
Hometown: Olivia, Minnesota
34th Military Police Company
Died: July 16, 2009 in Basrah, Iraq
Specialist James David Wertish, 20, of Olivia was killed in combat.  He was assigned to the 34th Military Police Company in Stillwater, Minn.  Spc. Wertish was killed when Contingency Operating Base Basra was attacked by indirect fire Thursday, July 16 at approximately 9:15 p.m Iraq time.
Spc. Wertish was born January 18, 1989 in Redwood Falls, Minn.  and is a graduate of B.O.L.D. High School in Olivia, Minn.  He enlisted into the Minnesota Army National Guard on February 28, 2006.  He graduated from One Station Unit Training as a 31B, Military Police at Fort Leonard Wood, Missouri.  On April 15, 2009, Spc. Wertish deployed to Basra, Iraq with the 34th Military Police Company in support of Operation Iraqi Freedom.
Spc. Wertish loved working on his family farm. Fellow Soldiers in 1st Platoon said Spc. Wertish would literally give you the shirt off his back.  "He loved snowmobiles and playing Rock Band II.  He could always make us laugh with his humor; we could count on him to improve our day."
Spc. Wertish is survived by his parents David and Kim Wertish, two sisters and a brother.
Additional Links
https://thefallen.militarytimes.com/army-spc-james-d-wertish/4196348
https://www.twincities.com/2009/07/17/3-minnesota-soldiers-die-in-iraqi-assault/
https://www.mprnews.org/story/2009/07/17/soldierskilled
http://www.kttc.com/story/10747051/three-minnesota-national-guardsmen-killed-in-iraq
https://www.dvidshub.net/news/91629/memorial-dedicated-fallen-34th-mp-soldiers
https://www.twincities.com/2009/07/17/more-details-emerge-on-deaths-of-3-minnesota-soldiers/
https://www.legacy.com/obituaries/dfw/obituary.aspx?n=james-d-wertish&pid=130014558
https://www.findagrave.com/memorial/39565468/james-david-wertish
https://www.leg.state.mn.us/docs/2010/other/101583/www.governor.state.mn.us/priorities/governorsorders/flagsathalfstaff/2009/PROD009612.html
http://www.mortuary.af.mil/News/Photos/igphoto/2000518670/
https://www.twincities.com/2009/07/18/condolences-pour-in-for-3-slain-minn-soldiers/
https://www.woodburybulletin.com/news/939161-wertish-family-brings-slain-soldier-home-olivia
http://www.echopress.com/news/1609631-olivia-mourns-death-guard-member-james-wertish
http://www.stevenscountytimes.com/news/420309-olivias-james-wertish-one-three-minnesota-soldiers-killed-iraq
http://www.grandforksherald.com/news/2104676-dead-minnesota-soldier-remembered-typical-teen-who-dreamed-police-career