Staff Sgt. David F. Day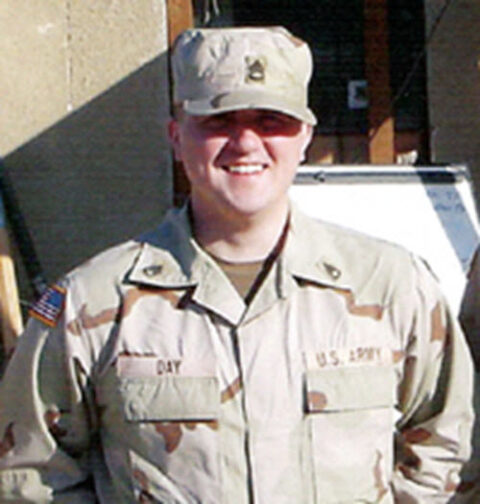 Age: 25
Hometown: St. Louis Park, Minnesota
C Battery, 1st Battalion, 151st Field Artillery
Died: February 21, 2005 in Baghdad, Iraq
Staff Sgt. David F. Day was killed Monday, February 21, 2005, in Baghdad, Iraq, while serving as a member of Company C, 1st Battalion, 151st Field Artillery. SSG Day was assisting injured Soldiers in his unit when an improvised explosive device detonated killing him and two others.
Day was born October 29, 1979 in Morris, Minnesota, and graduated from Morris Area High School in 1998. He graduated from the Law Enforcement program at Normandale Community College and served as a police officer with the St. Louis Park Police Department.
Day enlisted into the Minnesota Army National Guard on June 29, 1998 as a 13E Cannon Fire Direction Specialist. He deployed to Iraq in 2004 as a Field Artillery Automated Tactical Data System Sergeant and Team Leader.
His military training includes: Basic Combat Training, Advance Individual Training, Primary Leadership Development Course, Basic Non-Commissioned Officer Course and Advanced Field Artillery Tactical Data Systems course.
His military decorations include: Bronze Star Medal, Purple Heart, Good Conduct Medal, Army Reserve Component Achievement Medal with one oak leaf cluster, National Defense Service Medal, Non-Commissioned Officer Professional Development Ribbon, Army Service Ribbon, Overseas Service Ribbon, Armed Forces Reserve Medal with "M" device, Global War on Terrorism Service Medal, Global War on Terrorism Expeditionary Medal, Combat Action Badge, Minnesota Good Conduct Ribbon, Minnesota Service Ribbon.
Day is survived by his wife, Amy; parents, David and Veronica; brother, Jeremiah; sister, Kate (Troy) Day-Mausolf; grandparents, David W. and LaVonne Day; and numerous aunts, uncles, cousins and friends.
Additional Links
http://news.minnesota.publicradio.org/features/2005/02/22_ap_gaurdkilled/
https://www.dvidshub.net/image/4453/stairway-heaven-display#.VOYWMC6T43M
http://news.minnesota.publicradio.org/features/2005/12/06_steilm_guardhome/?refid=0
http://www.iraqwarheroes.org/day.htm
http://www.fallenheroesmemorial.com/oif/profiles/daydavidf.html
https://www.findagrave.com/memorial/14803155
https://www.legacy.com/obituaries/twincities/obituary.aspx?n=David-Day&pid=3203493
http://www.fox9.com/news/minnesota-national-guard-remembers-3-young-soldiers-killed-12-years-ago
https://thefallen.militarytimes.com/army-staff-sgt-david-f-day/683511
https://www.leg.state.mn.us/docs/2010/other/101583/www.governor.state.mn.us/mediacenter/pressreleases/printerfriendly/PROD007548.html