Camp Ripley drives on with rebuild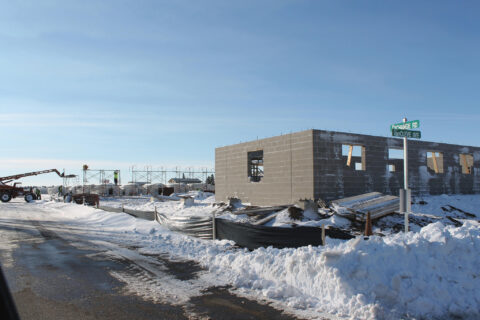 By Staff Sgt. Anthony Housey
Camp Ripley Public Affairs
CAMP RIPLEY, Minn. (Dec. 2, 2016) – Following a damaging storm last fall, Camp Ripley and the Minnesota National Guard set plans in motion for the rebuilding of housing and maintenance structures on the installation.
"The replacement strategy for outdated and damaged buildings is integrated into our long-range development plan to ensure Camp Ripley is able to meet future mission requirements," said Deputy Garrison Commander Lt. Col. Chad Sackett.
The location of Camp Ripley was selected in 1929 by Minnesota's Adjutant General, Ellard Walsh, in order to replace the small, outmoded 200-acre training camp in southern Minnesota created in 1888.
Construction of buildings, utilities, field ranges, and roads began in 1930 and by June of 1931, as the first troops arrived for training, the cantonment area included a water tower, headquarters and maintenance buildings, supply warehouse, and six company-size mess halls. It marked the beginning of a steady progression of construction for the new training facility.
Since the early 1990s, Camp Ripley has continuously exercised the opportunity for development and modernization as the increase of training requirement for military and state partners progressed.
Modernization of troop facilities in Area 5 reflected this development as the old "tin huts" began being replaced by updated, concrete structures in early October of 2016. The new facilities will include five bays per building capable of accommodating 10 persons per bay with the availability of 20 per bay by adding bunks during a specific surge.
Each soldier will be allotted 90 square feet of additional space for equipment while providing space to accommodate a walkway for freedom of movement. Every space consists of bunk, foot locker, end table, electrical outlet, window and shelf with hanger rod. Metal doors with added screen doors will meet the needs of security and ventilation, and each bay will have an exterior access as well as secure access to adjacent bays.
The Facilities Management Officer on Camp Ripley has already set in motion plans following an EF-1 tornado that damaged troop billeting and maintenance structures on Sept. 7.
"Camp Ripley had damage to 77 buildings, four of which suffered major damage including roofs torn off or moved off of concrete foundations," said a spokesperson conducting the investigation.
The storm temporarily affected operations on the installation as well as uprooted trees, destroyed security fences, federal, state and private vehicles in addition to communications and simulations training equipment.
"Reconstruction of the four significantly-damaged buildings will begin next summer and consist of the demolition, redesign and construction projected to be complete by summer 2018," said Maj. Patrick Foley, design and project management supervisor with the Facilities Management Office.