Camp Ripley ensures mission readiness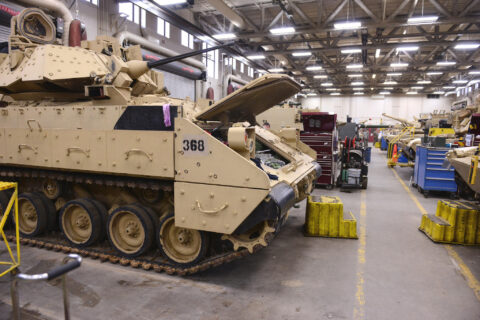 By Staff Sgt. Anthony Housey
Camp Ripley Public Affairs
CAMP RIPLEY, Minn. (Jan. 26, 2017) – Maintenance technicians working at Camp Ripley labored through the month of January to ensure the readiness of vehicles and equipment for the 1st Armored Brigade Combat Team.
"We are working to get units of the Brigade recovered from their gunnery cycle and ready for the next phase," said Maj. Lonny Rigney, assistant superintendent, Consolidated Maintenance Activity-South at Camp Ripley.
Members of the Minnesota National Guard will continue to build relationships with other military services by participating in several important training exercises in 2017. Several events, focused the further strengthening of our overall readiness, are scheduled to combine active and reserve components with international partners on foreign soil as well as here in Minnesota.
In recent years the National Guard has become increasingly responsible for representing not only defense at home but a reliable element of America's military force overseas as well. Many Minnesota Guard members have worked successfully alongside active duty organizations in countries around the world like Kuwait, Korea, Croatia, Estonia and Norway. As the trend continues through 2017 the opportunity for Guard units to gain federal mission experience is more and more relevant.
"Minnesota National Guardsmen make up a significant elements of America's vigilant, ready and cooperative force capable of responding at home and abroad," said Capt. Holly Rockow, public affairs officer for the Minnesota National Guard.
In preparation for upcoming exercises at home and overseas, maintenance technicians working on Camp Ripley are undergoing detailed, technical inspections in addition to usual and unscheduled maintenance. During all of this, units are still taking part in routine training in preparation for the upcoming exercises.
Following the 2016 "ramp-up" for the 1st Armored Brigade Combat Team's rotation at the National Training Center at Fort Irwin, Calif., the vehicle fleet of the Minnesota National Guard underwent a detailed recovery in order to return any unserviceable vehicles to optimal condition. With deployments looming, the status of fully mission capable is top priority.
"It is a tight schedule, but we are on track for ensuring the vehicles were recovered properly, able to be used for training and prepared for the trip overseas," added Rigney.
One of the tools used to meet the brigade's readiness requirements is the new Global Combat Support System-Army, which is an integrated system now fielded at Camp Ripley, where users can perform functionalities associated with areas of supply, maintenance, property, and tactical finance missions in the modular structure or location throughout the world.