Camp Ripley Garrison Unit Ministry Team to deploy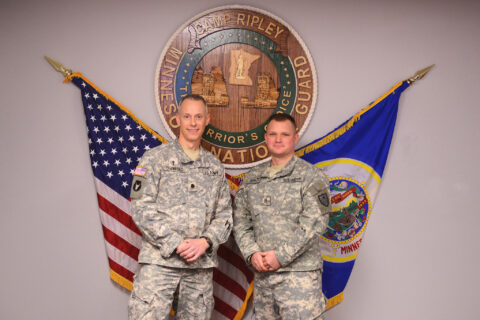 By Staff Sgt. Anthony Housey
Camp Ripley Public Affairs
CAMP RIPLEY, Minn. (Dec. 7, 2016) – Soldiers of the Camp Ripley Training Support Unit recognized and gave best wishes to their Unit Ministry Team, Dec. 3, 2016, during the annual holiday party.
Chaplain Lt. Col. Michael Crawford and Staff Sgt. Carl Seim of the 47th Chaplain Detachment assigned to Camp Ripley will deploy overseas following mobilization training at Fort Hood, Texas, beginning the last week of December.
"We are a two-man unit; I'm the commander and Sergeant Seim is everything else," said Chaplain Crawford light-heartedly.
The 47th's mission is to support base ministry roles for transitioning and mobilizing Service members as they rotate to forward operating bases throughout deployed areas of operation.
"Our main effort will not be any different than at Camp Ripley," added Crawford. "We will work mainly with the facility's permanent party who are assisting with the transition of deploying units."
Generally, the Unit Ministry Team or Religious Support Team's mission is to provide and perform direct spiritual and counseling support to service members, allied partners and their families in garrison as well as operational environments.
As a team, the duo of the 47th will be coordinating religious services for all faith backgrounds, providing morale and welfare programs and conducting religious engagements with local populace all while ensuring the team meets military readiness requirements.
The Chaplain's Assistant or Religious Affairs Specialist/NCO, is typically an enlisted soldier, trained in soldier tasks and responsible for the security of the team. Additionally, the Chaplain Assistant rounds-out the team by being fully trained in religious support matters to accompany the Chaplain and is considered a ministry multiplier.
"My role during this deployment is to be the force protection of the Chaplain, help provide religious support and accommodations through the Commanders Religious Program which is managed by the Chaplain upon receiving the intent of the Commander," said Seim.
The Religious Support Team is expected to work in conjunction and support the Black Sea Area Support Team (BSAST) operating overseas.
"We are very grateful to be bring some of our practices from Minnesota with us," added Crawford. "Being attached to Camp Ripley has given us the opportunity to know what right looks like."