Camp Ripley graduates new class of combat medics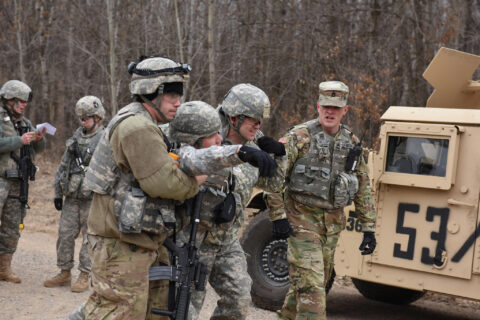 >By Staff Sgt. Anthony Housey
Camp Ripley Public Affairs
CAMP RIPLEY, Minn. (March 29, 2017) – Fifteen Soldiers from across the U.S. completed the 68W Combat Medic, Military Occupational Specialty-Transition Course recently at Camp Ripley.
The 58 day course is part of the 2nd Battalion, 175th Regiment Regional Training Institute's program for re-classing or transitioning Soldiers seeking a new Military Occupational Specialty.
"We had a large class and it's been an exciting challenge for us overall, but I'm looking forward to seeing all these great students graduate," said Staff Sgt. Jessica Peterson 68W instructor with 2nd-175th RTI.
The 68W, Health Care Specialist is primarily responsible for providing emergency medical treatment, limited primary care and health protection as well as evacuation from a point of injury or illness. Additional duties may include the medical treatment to battlefield casualties, assisting with outpatient and inpatient care, laboratory analysis, and making necessary preparations for senior medical personnel to perform surgery.
"Deep down we are all transferring from our other positions to become medics for the same reason, we want to help," said Spc. Carson Crook from 1st Batl. — 126th Infantry with the Michigan National Guard.
Each year hundreds of soldiers from both the reserve and active components travel to the Camp Ripley Training Center to attend one of 31 courses offered by the 175th RTI. The institute ensures the courses offered meet requirements for all components, drawing students from across the country and supporting the One Army School System. The One Army School System is a force-wide, national effort that aligns course capacity with demand to minimize wait times for soldiers trying to complete professional development, leadership and skills-based schools. The courses offered at the 175th RTI qualify soldiers as infantrymen, cavalry scouts, health care specialists, wheeled vehicle mechanics and tracked vehicle repairers.
"My family is excited that I'm becoming a medic, we come from a big medical background," Crook added.
The class took on the course in three phases, starting out in the classroom and building up to a full-speed field training exercise where they learned, trained and executed techniques used by combat medic in the field and in garrison. Some of the skills adapted by the students included the ability to react and care for a patient while under stress. This was facilitated by the well-trained cadre of the RTI through several parts of the curriculum.
"I didn't know what to expect with this course, and it has been a lot of work, but it has exceeded my expectation with the amount of knowledge we learned here,' said Sgt. Ashley Pofahl, former chemical specialist with the Nebraska National Guard.
The RTI utilizes several parts of the Camp Ripley Training Area to include the rifle ranges, recovery ranges and other training lanes. During the 68W course, students were able to training on dismounted techniques as well as mounted in practices for medics.
"I'm excited to be able to take this knowledge back to my unit, but I'm hoping to become a flight medic going forward," added Pofahl.
Graduations for these fifteen Combat Medics will take place on Thursday Mar. 30th at 10 a.m. on Camp Ripley.