Camp Ripley joins in on Health & Fitness Month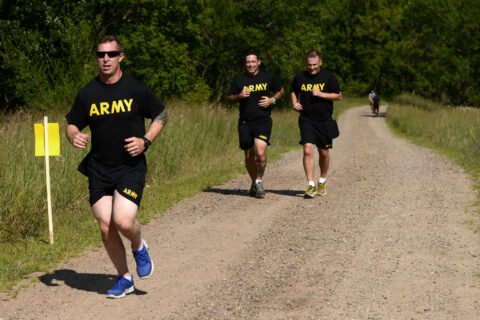 By Staff Sgt. Anthony Housey
Camp Ripley Public Affairs
CAMP RIPLEY, Minn. (May 4, 2017) – Employees and soldiers at Camp Ripley are taking advantage of the warmer weather in Minnesota and stretching their legs with the kick off of Health & Fitness Month in May.
"Staying fit and healthy is important for an enjoyable and productive work environment, plus it helps us remain ready and in compliance with Army standards," said Maj. Steven Hall, operations officer with Camp Ripley.
The events at Camp Ripley are inspired by the Global Employee Health and Fitness Month, which is an international observance of health and fitness in the workplace that was created in 1989.
The goal of ACTIVE Life and the National Association for Health and Fitness was "to promote the benefits of a healthy lifestyle to employers and their employees through worksite health promotion activities and environments," according to a recent news release about the topic.
Formerly National Employee Health & Fitness Day, Global Employee Health & Fitness Month has been extended to a month-long initiative in an effort to generate sustainability for a healthy lifestyle.
During the month of May, Camp Ripley and the Minnesota National Guard will host several events with the interest of health and fitness as the driving factor behind them. On Camp Ripley the third running of the Friday 5Ks will take place for service members, civilian employees, family members, dependents and retirees from 6-7:30 a.m. at several locations around the installation over the month.
"We are fortunate to have work out facilities for the winter months, but 5K Fridays are a great motivator to get outside and socialize with other members of the Camp Ripley family," said Lt. Col. Chad Sackett, Camp Ripley deputy garrison commander.
Additionally, the staff on Camp Ripley has some of the training areas open to utilize during low demand times for several hours of independent exercise. "Exercise on the EVOC" allows Camp Ripley employees the opportunity to use the 2.3 miles of undisturbed road which is commonly used for driver training by the military and the Minnesota State Highway Patrol.
Another great event is the 5K fun run/walk and kids run at Arden Hills Army Training Site on May 13, which everyone is welcome to join. There will be a silent auction and raffle items, lunch to purchase, and Cassie's Cups gear for purchase, all benefitting the Cassie's Cups Team as they fundraise to participate in the Susan G. Komen 3-Day Walk in August 2017. Registration for the event can be found at: https://runsignup.com/Race/MN/ArdenHills/PinkTankProjectCassiesCups5K and ends May 13.