Camp Ripley strikes first before wildfire season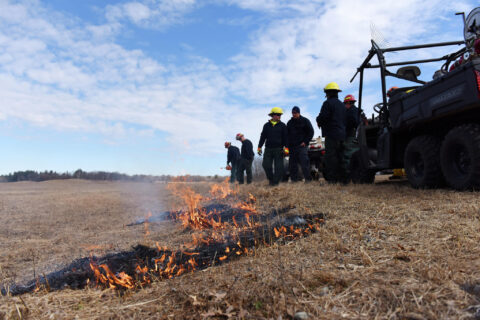 By Staff Sgt. Anthony Housey
Camp Ripley Public Affairs
CAMP RIPLEY, Minn. (March 24, 2017) – Every spring Camp Ripley begins its annual controlled burn program to help reduce the risk of wildfire during training.
"Usually the burns are completed every spring before the summer annual training season begins," said Tim Notch, training area coordinator on Camp Ripley. "However, the warmer weather conditions provide a nice opportunity for preventative burns earlier this season."
As in years past Camp Ripley will conduct controlled burns on approximately 13,000 acres of the 53,000-acre military reservation. The burns are done in coordination with the staffs of the Camp Ripley Department of Public Works and the Camp Ripley Environmental Department along with support from the Minnesota Department of Natural Resources.
The training for these operations is ongoing but is conducted formally each year prior to the wildfire season which takes place in early fall and mid-spring for central Minnesota.
Many of the native grasses on Camp Ripley are fire dependent species. The controlled burns eliminate old and dried grass allowing new shoots to spring forth according to an environmental spokesman for Camp Ripley.
During this time period the surrounding areas around Camp Ripley can expect to see and smell smoke from the areas being burned. Safety precautions are taken into consideration during the execution of these burns. EMTs from Miller Army Airfield's Crash & Rescue team act as medical personnel supporting the crew throughout the burn. Additionally, water trucks manned by members of Camp Ripley Department of Public Works follow each element as the fires are being set.
"Vegetation that has been collecting since before winter has been piled and will be burnt off to reduce any hazards that may occur," added Notch.
The fires are started, monitored and controlled in accordance with the Department of Natural Resources and the Camp Ripley Fire Department.
Residents of the Little Falls, Randall, Pillager, Baxter and Brainerd areas may notice the smell of smoke originating from Camp Ripley. These periodic controlled burns will be conducted throughout the spring season to mitigate the risk of wildfires that may potentially endanger training.
The Camp Ripley Public Affairs will send out periodic notifications when future burns are scheduled to take place. Additionally notices can be found on the DNR website: www.weather.gov/spot/monitor/.