Camp Ripley welcomes new command sergeant major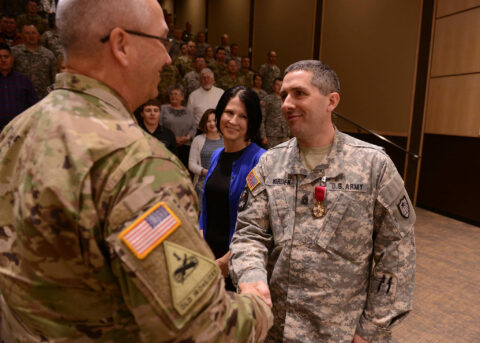 By Staff Sgt. Anthony Housey
Camp Ripley Public Affairs
CAMP RIPLEY, Minn. (March 8, 2017) – The garrison command team of Camp Ripley, family, friends and colleagues from the Minnesota National Guard attended a Change of Responsibility ceremony between Command Sgt. Maj. Mike Worden and Command Sgt. Maj. Matt Erickson, March 5, 2017, at Camp Ripley.
The ceremony was an official "passing of the sword" from one senior noncommissioned officer to the next and assumption of the duties and responsibilities that go along with the position of Garrison Command Sergeant Major.
As with many military ceremonies those in attendance welcomed Erickson as a new member of the team and bid farewell, recognized and thanked Worden for his service.
"Next to all successful officers and organizations there are great NCOs. Command Sgt. Maj. Mike Worden is one of those NCOs who I've been honored with which to serve," said Col. Scott St. Sauver, Camp Ripley garrison commander.
Worden enlisted into the Military Intelligence branch of the U.S. Army Reserves in July 1990. In June of 1996 he joined the Minnesota Army National Guard serving as a part-time soldier in Alexandria before beginning a full-time career in 1997.
Worden served in many capacities throughout Minnesota with some of his most recent assignments to include the operations sergeant major for the 1st Armored Brigade Combat Team, Operations Sergeant for the 175th Regional Training Institute; and battalion master gunner for the 1-194th Armor Battalion in Brainerd. During his time in service Worden deployed to Iraq in support of Operation Iraqi Freedom in 2005 serving more than 14 months providing operational coordination and planning support during execution of combat operations.
"He is a very smart and insightful leader. He never asked a question that he didn't already have the answer to, but allowed soldiers the opportunity to work through it. His energy was motivating. Always took the time to ask and listen how a person was doing as well as their family," said Master Sgt. Robert Saffell, operations NCO with Headquarters & Headquarters Company, 1st Combined Arms Battalion — 194th Armor.
The garrison command sergeant major is responsible for managing the military aspects of all full-time and traditional National Guard members on the installation. They serve as the primary advisor to the commander regarding issues related to the analysis and enforcement of established policies and standards for enlisted personnel. Additionally, their oversight has particular emphasis on readiness, morale, welfare, discipline, performance, training, awards and recognition, recruiting, equal opportunity, promotion, assignment and reassignment and administrative needs.
"He has been a trusted advisor and compassionate advocate for the soldier; making a positive difference for all the servicemembers and civilians using Camp Ripley. I wish to congratulate him on a great career and the very best in the future," added St. Sauver.
In addition to managing the Army family, Worden has a family of his own, wife Lisa and two children who he devotes as many moments as he can to. During his closing remarks, following the change of responsibility, he admitted how proud he is of his family for understanding the requirements of his job and stepping up when needed while he was away.
"There is a sense of relief that the long absences for deployments and training are done," said Lisa Worden. "Anyone who knows Mike, knows that he will keep himself busy and productive. We are proud of his accomplishments and appreciate that he is an exceptional soldier, but I am grateful that he is an exceptional father and husband as well."
The Certificate of Appointment to Command Sergeant Major read: "You are therefore charged to faithfully and impartially discharge the duties required by this appointment. As Command Sergeant Major, you fulfill your role in the efficient accomplishment of the unit's mission by providing advice and initiating recommendations to the commander and staff on all matters pertaining to enlisted personnel and their families. By providing counsel and guidance to noncommissioned officers and other enlisted personnel of the command, you satisfy your responsibility for the welfare of the unit's personnel. Also, as the senior noncommissioned officer in your command, you are provided a special charge to uphold military customs and traditions and to enhance the professionalism in the Noncommissioned Officer Corps and the Army by executing established policies and directives according to the Uniform Code of Military Justice."
Camp Ripley welcomes Erickson to the team and as the new garrison command sergeant major. An artilleryman by trade, Erickson along with his wife Mandy and two children join the Camp Ripley team having come from the 682nd Engineer Battalion and a recent deployment to Kuwait in support of U.S. operations overseas.