Care of injured bird comes full circle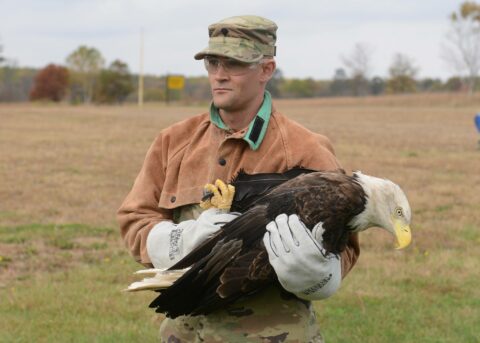 By Staff Sgt. Anthony Housey
Camp Ripley Public Affairs
CAMP RIPLEY, Minn. (Oct. 12, 2016) – An eagle was released back in the wild Oct. 4, 2016, at Camp Ripley following three months of rehabilitation.
"We'd like to thank the team at Camp Ripley for rescuing and bringing this bald eagle to the Raptor Center for care," said Amber Burnette, program associate with the Raptor Center University of Minnesota. "It was our pleasure to be a part of bringing this bird back home."
The bald eagle was found along a Morrison County highway by a soldier working at Camp Ripley in mid-July, 2016. At first glance, the bird appeared to be injured and not responding to the traffic that was driving by.
"At first I thought it was a stuffed animal or something, it didn't move," said Spc. Jeff Jensen, of Camp Ripley. "Then, as it finally moved when I got closer, and I noticed it was injured."
The call was placed to a team member of the Camp Ripley Environmental Office, part of the Minnesota National Guard's program for wildlife and natural resources management on base. Additionally, a conservation officer from the Minnesota Department of Natural Resources was called in to assist and provide expertise on capturing the bird if necessary.
"It was hurt, there was no doubt about that, the challenge was how to take responsibility for it," said Adam Thompson of the environmental office at Camp Ripley.
According to the Raptor Center's web page on "Tips for Handling and Injured Raptor," the first step reads: If you must handle or move a bird, first cover the bird with a blanket or towel to reduce its visual stimulation, and protect yourself by wearing heavy gloves and safety glasses. The process of recovering an injured bird along the side of the road, in tall grass surrounded by water, on a summer's morning, is not spelled out in specific detail but the responders were able to capture the bird and safely and transport it back to Camp Ripley before turning it over to the Raptor Center in St. Paul.
"Birds of this size are often struck by cars as they need a longer lift area than a smaller bird when taking off," said a representative from the National Eagle Center in Wabasha.
Motorists should be aware of and slow down for animals along the side of the road as they can be unpredictable especially responding to traffic. If contact with an animal or, as an example, an eagle does occur, it's better to report the situation instead of leaving it to die.
On Sept. 20, Camp Ripley received word the Eagle had made a recovery and was ready to be released back into the wild. Volunteers from the Raptor Center asked to release the bird back into its environment on Camp Ripley as it was a safer place for the release. Jensen got the privilege of releasing the bird on Oct. 4.