Family and Friendship wrapped up in gift for Norwegian exchange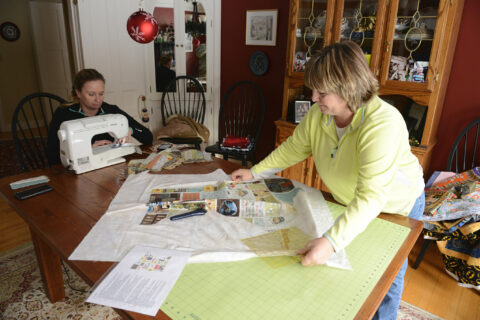 By Staff Sgt. Anthony Housey
Camp Ripley Public Affairs
CAMP RIPLEY, Minn. (Feb. 8, 2017) – Careful attention was put into the creation of a hand-made quilt for this year's organizational gift during the 2017 U.S.-Norway Reciprocal Troop Exchange.
Since 1974, the exchange of gifts between the Minnesota National Guard and the Norwegian Home Guard has helped to strengthen bonds between the two nations both militarily and culturally.
The exchange itself, being the longest continuously running exchange in the Department of Defense, has been seen as a gift; ensuring the safe and successful execution of American and Norwegian efforts at home as well as overseas.
One of the toughest decisions during the exchange is the gift of choice for the other country. Protocol says that it should be something meaningful that represents the culture, people and history of the organization.
"We wanted to come up with something that represents a piece of all of us," said Deb St. Sauver, wife of the Camp Ripley garrison commander.
It's not uncommon for military spouses to be involved in decisions such as these. From the very beginning of the United State Army, officers' wives have played a crucial role in daily, quality of life issues that faced service members and their families. As America's expanses moved to new frontiers, military spouses became as much a serving Soldier as their beloved. Often times fighting off the elements and conditions while preserving the household and maintaining the family unit.
While building the quilt Mrs. Deb St. Sauver and Mrs. Amy Kruse, wife of Col. Lowell Kruse, director of logistics for the Minnesota National Guard, labored to personally share the spirit, values and diversity of Minnesotans through the fabrics of the quilt.
Something that is not issued by supply but is as equally important as the service members' rifle, helmet or rucksack are the people they have at home. Whether training close by or serving overseas, the network of the family, friends and loved ones is the lifeblood of every member of the military.
The final touches for the quilt were made with the assistance of Capt. Janelle Johnson and the Old Creamery Quilt Shop in Randall.
As part of the exchange, involvement of the Service members' families helps to make each event successful in developing relationships as friends and allies both at home and overseas.