Fourteen Soldiers. Twelve States. One Competition.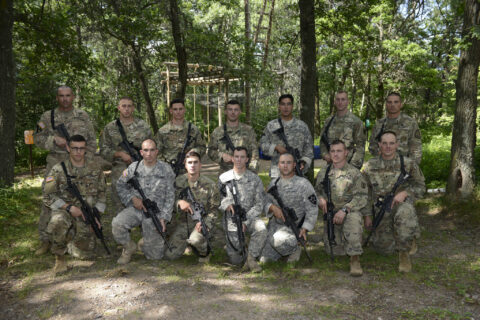 By Sgt. Sebastian Nemec
Minnesota National Guard Public Affairs
CAMP RIPLEY, Minn. (July 16, 2017) – One Soldier (junior enlisted) and one NCO (non-commissioned officer) will emerge at the top at the Army National Guard's Best Warrior Competition held at Camp Ripley, Minn., July 17-20, 2017, and move on to represent the Guard in the All-Army Best Warrior Competition in October.
The competitors have been conducting last-minute training since July 12 at Camp Ripley by honing their skills on various weapons, maintaining their physical strength and endurance, and reviewing military tasks.
"I'm feeling very confident," said Cpl. Joseph Garback, a cannon crewmember with B Co., 1st Battalion, 114th Infantry, 50th Infantry Brigade Combat Team, New Jersey National Guard. He's been preparing with the other Region 1 competition winner, Sgt. Zachary Scuncio. Garback says he has really liked the hands-on preparation at Camp Ripley and believes he's had an ample amount of time to prepare.
To make it to the Army National Guard level, the soldiers have already competed and won at the unit, state and regional level. The competitors come from New Jersey, Rhode Island, Washington D.C., Maryland, Georgia, Tennessee, Wisconsin, Minnesota, Arkansas, Oregon, Washington and Nevada.
The four-day competition will test the soldiers physically and mentally through numerous events. The competitors do not know all of the events they will be doing or when they will be doing them. This will test their ability to perform military tasks and knowledge under pressure.
"I'm ready to get started," said Staff Sgt. Dustin Rottero, a recruiter with Tennessee Army National Guard Recruiting and Retention Battalion, Tennessee National Guard. "The anticipation is what's hard."