Military kids participate in Minnesota National Guard Youth Camp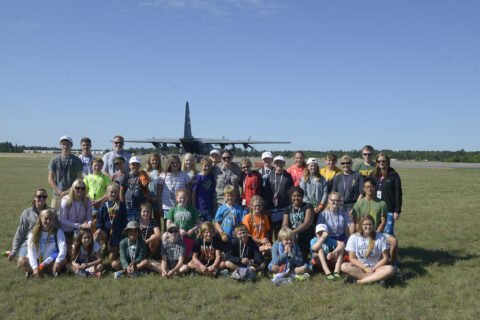 By Tech Sgt. Lynette Olivares
148th Fighter Wing Public Affairs
CAMP RIPLEY, Minn. (August 7, 2017) – Summer camp as a kid and young teen is usually filled with memories of campfires, swimming in the lake and BBQs. Camp Ripley Training Center hosted the Minnesota National Guard Youth Camp (MNGYC) for more than 200 military kids this year. The experience for the military kids who attend the camp relies heavily on donations and nearly 150 volunteers from around the state that come and spend the week with them.
Lindsay Koolmo is a volunteer and the executive director for the MNGYC. She is a military spouse, a volunteer firefighter and a mutations maintenance Tech Sergeant from the 148th Fighter Wing. She has taken upon herself for years to take time off her job and spend hundreds of hours throughout the year and more than two weeks at Camp Ripley to lead the camp.
Her affiliation with the MNGYC started early, in 1992 she was a camper, became a junior counselor, then was a junior counselor and then became an adult counselor.
"I grew up around this and I want to pay it forward for our future," said Koolmo. "I want to provide a positive, safe and caring environment to help youth in gaining an understanding of why their family member in the guard serves … and help with the stress and confusion of separation/deployment."
The military kids will come from around the state and experience dozens of activities throughout the week to include; archery, swimming, cannoning, crafts, aircraft displays, confidence courses, and much more. As well as lessons to strengthen character traits like patriotism, integrity, and honor.
"The youth are dependents, nieces, nephews, brothers, sisters, and grandchildren of current and retired Minnesota Guard members," said Richard Kemp, camp counselor, retired Minn. Army Guard Master Sgt. and former executive director of MNGYC, "They spend a week here and it's always so neat to see how much they grow."
Many of the volunteers involved in the youth camp come back every single year, some may only be able to stay for a day but love the opportunity to help.
"I love it, it's hard to explain but everyone here knows about the 'youth camp bug' – once you start you always get the itch to come back if you can." said Koolmo. "The only camps I have missed were because of military requirements."
The second iteration of kids will wrap of a week of exciting adventures and memories to take home – the MNGYC team is already forward thinking to next year. This year it cost each child $160 fee to come to camp, scholarships are available. The group is in need of volunteers, especially licensed bus drivers, lifeguards, and medics, visit www.mngyc.org for more information.