Minnesota Air and Army National Guard represent at Duluth Airshow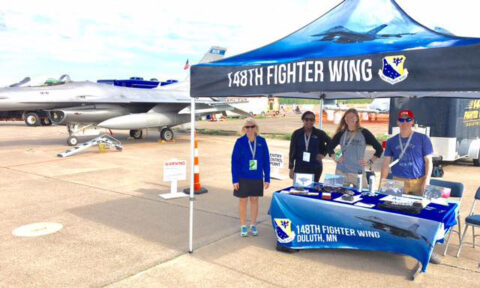 By Tech. Sgt. Lynette Olivares
148th Fighter Wing Public Affairs
DULUTH, Minn. (June 4, 2017) – Representatives and aviation assets from the Minnesota Air and Army National Guard were on display at the Duluth Airshow, June 3-4, 2017.
"We are so happy to be part of this event that involves so many different aspects of the community," said Jodi Grayson, media coordinator for the Duluth Airshow, who is also the Wing Executive Officer at the 148th Fighter Wing. "I think having the Army Guard and the Air Guard side-by-side in a event like this is an easy way to educate the public on the important, but very different, roles our Airmen and Soldiers have here in the state."
'Citizen soldiers' took on a very literal role at the event where security volunteers were made up of almost entirely National Guardsmen and Reservists, from Minnesota and Wisconsin. The large cast was needed with nearly 30 static aircraft displays available, and almost a dozen more tentatively expected to perform for an estimated 45,000 to attend over the two-day event.
"I wanted to be involved in the airshow for a variety of reason, it's so neat to see such a variety of aircraft in one location and tell people about the role of the Army Guard," said Troy Smith, security volunteer for the Air Show and Readiness NCO for HHT, 1-94th Cavalry. "Security of the airport, especially since it is open to the public, is an important mission."
The Minnesota Army National Guard St. Cloud-based Charlie Company, 2-211 Medical Evacuation Company, the Minnesota Air National Guard Duluth-based 148th Fighter Wing, the Minnesota Air Reserve St. Paul-based 934th Airlift Wing and troops from various service and branches throughout the state volunteered their time and services to be involved in this two-day event showcasing aircraft from around the nation.
Young or old, tens of thousands of crowd-goers enjoyed nearly a dozen air performers and experienced the high flying and thunder rumbling sounds of more than a dozen aircraft designed for war in the past or present.