NOREX 44 'Away Team' assembles in preparation for annual exchange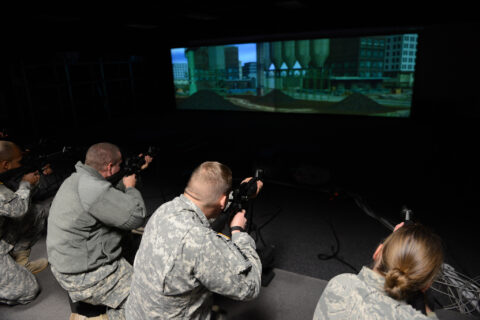 By Staff Sgt. Patrick Loch
Minnesota National Guard Public Affairs
CAMP RIPLEY, Minn. (Jan. 29, 2017) – The contingent of soldiers and airmen from the Minnesota National Guard preparing for the annual U.S.-Norwegian Reciprocal Troop Exchange assembled for their first formal training event Saturday and Sunday at Camp Ripley Training Center.
The preparatory drill weekend, which took place one month before 103 members of the Minnesota National Guard embark to Norway as part of the "away team" for the two-week military and cultural exchange event, was held to provide information on the exchange and, more importantly, allow an opportunity for these service members from units across the state to come together as one team.
"It's a good opportunity to meet people from diverse backgrounds in an accelerated environment," said Army Sgt. 1st Class David Wentzel, with the 1st Battalion, 125th Field Artillery. "This experience is what they're going to make of it, and they're making the most of it."
Having met one another face-to-face for the first time, soldiers and airmen assembled into platoons before receiving briefings on what to expect while training with the Norwegian Home Guard and conducted activities to build camaraderie among service members from different military units and cultures.
"Through the weekend I've learned a lot about what to do, and a lot what not to do," said Air Force Staff Sgt. Taylor Hanson, with the 148th Fighter Wing. "I'm really excited, sounds like we're going to be outside a lot."
Through the weekend soldiers and airmen learned that their training would include a weekend with Norwegian host family, four-day field exercise in the Norwegian wilderness — to include many miles on cross country skis — and several formal dinners and social functions. The robust schedule will allow plenty of interaction with their counterparts in the Norwegian military while providing a unique experience for members of the Minnesota National Guard.
"We know we have to be sharp, because we're representing not only the U.S. Army and U.S. Air Force, but also the units we belong to," said Spc. Alexander Hayes, with the 434th Chemical Company. "I'm really excited for the experience, it will be new training I've never done before.
"I'm looking forward to skiing up a hill, instead of down it," said Hanson, an avid snowboarder.
The 44th Norwegian Reciprocal Troop Exchange will be held from Feb. 8 to Feb. 23 in Norway and at Camp Ripley. While soldiers and airmen making up the away team head to Camp Værnes, near Trondheim, Norway, the home team will play host to a contingent of Norwegian Home Guard members conducting a similar military and cultural exchange here in Minnesota.