Norwegian youth recognized for response to vehicle accident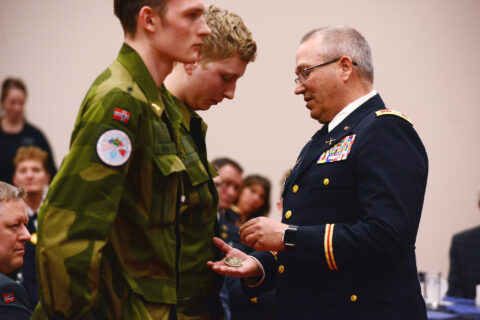 By Staff Sgt. Anthony Housey
Camp Ripley Public Affairs
CAMP RIPLEY, Minn. (Feb. 22, 2017) – Norwegian youths Stian Dahl and Haavard Engen received the Camp Ripley Garrison Commander's coin from Col. Scott St Sauver February 19, 2017, in recognition for reacting to a vehicle accident they witnessed earlier that week.
As part of the U.S.-Norway Reciprocal Troop Exchange, Norwegian youths ages 19-20 are matched up with a host family in order to spend an evening experiencing American culture. In most situations the "Buddy Weekend" as it's called allows the youths to go shopping, attend events and have home-cook meals along with their host family.
"We are able to match up youth members with families all over the state," said Staff Sgt. Tim Krouth, Buddy Weekend organizer. "Lots of the families have hosted one or two of our Norwegian friends for several years in a row now, it a great way to relax and see some of Minnesota."
While in route to their host family's home two Norwegian youths came upon a vehicle accident in the vicinity of Rice. Seeing the situation as it was, Norwegian youths Stian Tobias Slotte Dahl and Haavard Engen along with members of the Hanson family jumped into action to provide help where they could.
Although not a serving element of the Norwegian Military the Company of Youth is a conscription organization within the Norwegian Home Guard. It is in place to introduce young men and women to military related skill, survival, first aid and professional development which will ease the transition should they choose to enter military service in the future.
Rendering first aid to an injured passenger, they did what they could until a Benton County Sheriff's deputy arrived shortly thereafter. The youths along with members of the Hanson family helped evacuate the injured person and assisted first responders before returning to their journey home.
Stian Dahl and Haavard Engen displaying personal courage, initiative and professional bearing while reacting to the scene along one of our Minnesota highways. Because of their quick reaction and dedication to protecting human like, both at home and abroad, the youths were presented the Garrison Commander's coin by Col. Scott St. Sauver, Camp Ripley Garrison Commander.