Soldiers conduct winter vehicle recovery training on Camp Ripley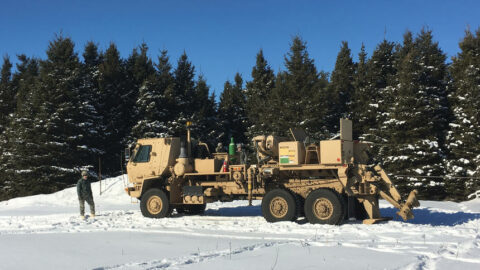 By Sgt. 1st Class Luke Straw
MNNG Regional Training Site Maintenance
CAMP RIPLEY, Minn. (Jan. 31, 2017) – Instructors of the Minnesota National Guard Regional Training Site-Maintenance (RTS-M) led training Jan. 14, 2017, for Advanced Recovery Operations in a winter training environment at Camp Ripley.
"We need to prepare for all weather conditions and train accordingly to meet the increasing demand of National Guard assets being used by their states for weather-related emergencies," said Sgt. 1st Class Kristopher Ambuehl, course instructor.
Eighteen Soldiers from the Maintenance Platoon, 224th Transportation Company out of Austin joined instructors at Camp Ripley for a refresher and familiarization training.
"Training began with classroom instruction that included recovery vehicle operations, winch capacities, towing, rigging calculations and winter driving techniques," said Warrant Officer Candidate Clint LeBlanc, an instructor.
After finishing with the initial classroom portion, the 224th Soldiers and instructors headed downrange to the Camp Ripley Training Center Recovery Range (R — Range) in training area 2. Vehicles used included the M1089/P2 Wrecker and M1249 MRAP Recovery Vehicle.
While at the recovery range Soldiers were presented with various recovery scenarios to include rail head / trailer loading, advanced winching operations, and rollover techniques.
Soldiers were trained in overhead hoisting operations with MRVs (MRAP Recovery Vehicle) 60,000-pound rotator boom. The training helps the soldiers improve their standard, additional skill identifier (ASI) H8, increasing familiarization with recovery skills to relate to the winter conditions that Minnesota National Guard Soldiers operate in during part of the year.
After a long day of multiple recovery scenarios, students and instructors met to discuss not only that day's training, but training to be conducted in the future to further improve the skills of the Minnesota Army National Guard wheeled vehicle recovery operators.