Substance abuse summit works to support the National Guard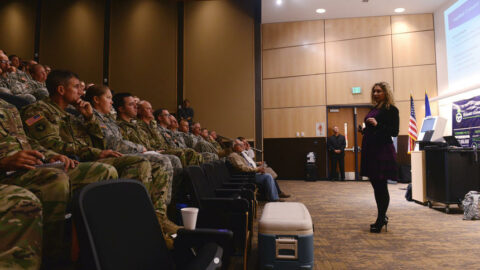 By Staff Sgt. Anthony Housey
Camp Ripley Public Affairs
CAMP RIPLEY, Minn. (Sept. 28, 2016) – Service members from across the Minnesota National Guard attended a summit Monday and Tuesday at Camp Ripley to discuss the methods of distribution for the organization's alcohol policy.
In its inaugural year, the Army Substance Abuse Prevention Summit, hosted by the Minnesota National Guard Substance Abuse Prevention Program, built a cooperative venue with several community partners in an effort to educate, inform and provide tools for leaders.
"We have been working for a while on developing a method to bring everyone to the table," said Capt. Troy Davidson of the Substance Abuse Prevention Program. "The intent is to collaborate with our senior leaders and other agencies provide resources and receive feedback in order to best serve the members of our organization."
The Minnesota National Guard implemented a Joint Substance Abuse Program in early 2014 to discourage alcohol abuse, illicit drug use, and prescription drug abuse and to foster a command climate that is supportive of Service members who need assistance.
The adjutant general's policy supports a workplace free of substance abuse allowing military values and standards of performance, discipline and readiness to be sustained within the organization.
"We are not hoping to preach as if we have all the answers, events like these will allow us to come up with new and creative ways to address these issues and allow the message to be heard clearer," added Davidson.
As part of the National Guard's program of reaching Service members across the force, the summit hopes to build strong motivations aiding soldiers and airmen not just while on duty but during their time at home as well.
"Realistically we have these men and women here for two days out of the month, we hope to be able to give them the tools to cultivate a positive attitude and mindset for when they are out with their friends and family at home," continued Davidson.
The program continued through Tuesday, when they participated with several other agencies during the Camp Ripley Safety Standdown.