347th RSG trains to master tactical, uninterrupted sustainment support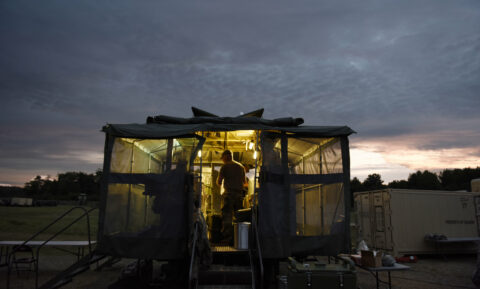 By Staff Sgt. Patrick Loch
347th Regional Support Group Public Affairs
CAMP RIPLEY, Minn. (Aug. 10, 2017) – After three busy days establishing a field command post and integrating units from across the country, the 347th Regional Support Group is underway with a three-week Combat Support Training Exercise during annual training at Camp Ripley.
It began with a Command Post Exercise on Aug. 8, 2017, but it couldn't begin until the tenants of "Tactical Assembly Area Victory" established meal service, sleeping arrangements, shower and laundry accommodations and, of course, the tactical command post.
"We do the exercise to make sure our equipment works, and once that is established we as a staff figure out how to sync together," said Sgt. Maj. Marc Dempsey, logistics operations sergeant major for the 347th RSG. "The exercise is for making sure we as a staff are working together as one team, with everyone knowing their role, for when we go into the main event."
No easy task, as syncing together requires a reliable tactical network that ensures command and control capabilities among the units on TAA Victory as well as units participating in the exercises while located in different areas of Camp Ripley, Arden Hills Army Training Site and Fort McCoy, Wisconsin. Major players in the CSTX include the Army's 541st Combat Sustainment Support Battalion, Fort Riley, Kan.; the Army Reserve's 420th Movement Control Battalion, Sherman Oaks, Calf.; and 983rd Engineer Battalion, Monclova, Ohio.
"For us, the biggest thing we stress is communication," said Dempsey. "The RSG has a lot of new equipment, and we're learning every day how to use it and be more effective."
The CPX includes 24-hour operations in a contested environment, meaning day/night shifts, watch tower duty and a rapid reaction force on standby in the event an enemy opposition force harasses base operations. The Soldiers working here conduct business as they would in a deployed environment, requiring a battle uniform at all times as well as secure convoy movements in-and-out of TAA Victory.
As RSG Soldiers get their footing during the CPX, the commander's staff will become a more cohesive unit heading into the more complex Field Training Exercise – set to begin next week. Until then, Soldiers here continue to adapt to life in an austere environment while learning how to integrate their job specialties into a large, complex operation. The unique training offered here not only provides a venue to hone Soldier skills and specialties but also validate members of the 347th RSG, set to deploy to Kuwait in 2018.