Beyond NATO Commitments, MN State Partnership with Croatia Continues to Grow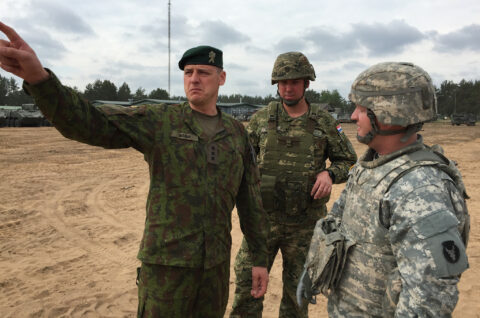 By Capt. Paul Modeen
1st Armored Brigade Combat Team Public Affairs
PABRADE, Lithuania (June 22, 2017) –Since 1996, the Minnesota National Guard and the Croatian Armed Forces have been partners in the National Guard's State Partnership Program. Beyond the bond of the NATO commitment, a mutual trust and unique bond has been forged amongst the warriors of each respective nation. From Camp Ripley to Karlovac, the soldiers have found a common cause of continuous improvement. Exercise after exercise, there has been a greater appreciation of one another's culture and customs.
You don't have to look to far to see this dynamic. When asked if he had ever worked with Minnesota National Guardsmen before, 1Lt Emanuel Hamer of the Croatian Armed Forces said, "This is my fourth time working with 2-136 "Bearcats," each time we grow closer and stronger. I feel like they are members of my unit. I'm glad I have this opportunity to learn new techniques and share some of our own with the Americans."
1Lt Emanuel Hamer is embedded in the headquarters of the 2nd Combined Arms Battalion, 136th Infantry Regiment, as a communications officer who helps with battalion technology operations. During this exercise, he worked side-by-side with his American counterpart to find technology solutions.
"It really is a team effort; I know that together, we are stronger," Hamer said.Not only does this partnership foster relationships amongst the officer ranks, a common understanding is being gained by the enlisted Soldiers as each day goes by. "We all look at this as a unique opportunity, said Sgt. Samuel Schoenecher of Brainerd, "They want to serve just like us. I feel like we are brothers."
With a wide range of diverse backgrounds, this partnership helps project Minnesotan and Croatian capabilities to the larger NATO effort. When asked why two countries separated by thousands of miles participate in such an exercise, Commander Inver Raguz of the Croatian Armed Forces said, "The strategic environment has been changing on a daily basis, each NATO member state should adapt and better prepare to respond to potential risks."
The Commander spoke clearly when he talked about the alliance's commitments and was happy to have the Minnesota National Guard training with him. Sitting confidently in his chair, with the NATO and Croatian flag at his side he said, "By conducting and exercising the NATO eFP Battle Groups, it shows Croatian strategic intention. By doing that we are promoting interoperability with Allies and regional partners and what is most important is that we are building our trust and the belief that we can rely on each other."
In a remote area of Lithuania, something special is taking place. Any casual observer can see the resolve in the American and Croatian Solders as they train. Those involved recognize that a strong military alliance can deter real or potential threats. NATO and its partnering nations continue to demonstrate how the bond of friendship can be the strongest uniting factor in our common goal for international security.