Minnesota National Guard Unit Presents ESGR Patriot Award to Civilian Employer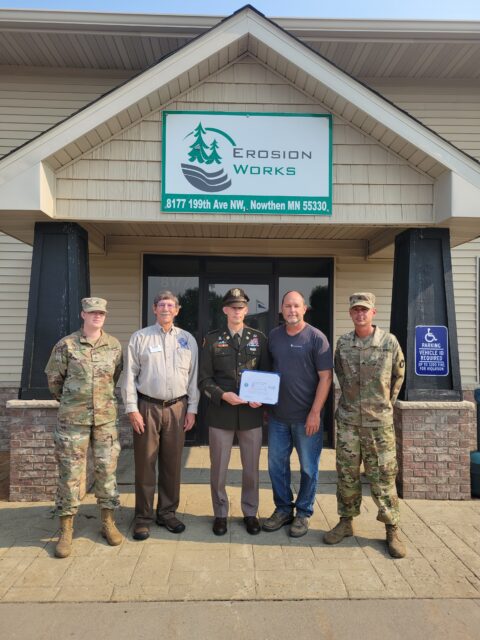 ELK RIVER, Minn. — Minnesota Army National Guard Sergeant Robert (Bobby) Hoeller and his Commander, 1st Lt. Eric Jezierski, presented the Employer Support of the Guard and Reserve (ESGR) Patriot Award to Sgt. Hoeller's supervisor, Roger Zakrajshek of Erosion Works, based in Elk River, Minnesota.
The Patriot Award reflects efforts made to support citizen warriors through measures including flexible schedules, time off, caring for families, and leaves of absence if needed. Zakrajshek was presented his award on July 14, 2023, at Erosion Works in recognition of continually going above and beyond in his support of Sgt. Hoeller's military obligations and service to the Minnesota National Guard.
Hoeller started his battle with mental health in 2012. The death of his father, divorce, two deployments, PTSD and a bad hand of cards have all been contributing factors to his struggle over the last 11 years. Recently, he finally took steps to seek help. Along with this help, comes many doctor appointments and days needed off work to cope and process. Hoeller wanted to nominate his employer because, as he puts it, "[Zakrajshek] has been nothing short of amazing in helping me through this process."
Hoeller went on to share a story about when both of his vehicles and his girlfriend's vehicle broke down and he had no mode of transportation. Zakrajshek offered Hoeller one of his work trucks to use until he could get his fixed. This kept Hoeller motivated and allowed him to make it to his appointments. Zakrajshek makes it a point to visit with his employees, check in and see how they're doing, and offer a little cheer up if needed. Sgt. Hoeller has worked under Zakrajshek for about a year and his kindness has made it clear clear that he genuinely cares about the health and well-being of his employees and is very deserving of the ESGR Patriot Award.
Present at the award presentation was Robert Adams, an ESGR Ombudsman/Minnesota Committee member. ESGR is a Department of Defense office that develops and promotes supportive work environments for service members in the National Guard and Reserve through outreach, recognition, and educational opportunities that increase awareness of applicable laws. ESGR also provides assistance in resolving conflicts between Service members and their employers. This year, ESGR celebrates 51 years of excellence in support of the Reserve Components and their civilian employers. For more information about ESGR outreach programs or volunteer opportunities, call (800) 336-4590 or visit www.ESGR.mil.
Story and photos by Army Staff Sgt. Morgan Maidl