Families recognized for sacrifices during Guard deployment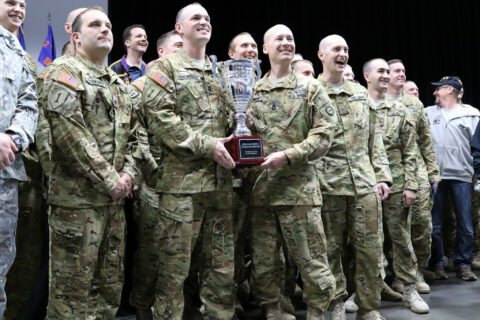 By Master Sgt. Ashlee Sherrill
34th Red Bull Infantry Division Public Affairs
ST. CLOUD, Minn. (May 22, 2017) – Soldiers of B Co., 2-211th General Support Aviation Battalion were welcomed home May 20, 2017, at the River's Edge Convention Center in St. Cloud, Minnesota. During the ceremony, families were recognized for their sacrifices during the year-long deployment.
"I often tell Soldiers and truly believe that as hard as our jobs are at times, our families have the harder job at home," said Lt. Col. Kevin O'Brien, commander of the 2-147 Assault Helicopter Battalion. "Because Army family members have a unique burden that many of their friends and families cannot understand, they form family readiness groups, or FRGs, to share information and provide support to one another."
The company's FRG leader, Rhiannon Knutson, wife of Chief Warrant Officer 2 Tom Knutson, was in constant contact with the unit's families and went above and beyond what is normally expected of FRG leaders, said the unit's readiness non-commissioned officer, Sgt. 1st Class Mark Wood.
"She's invested so many hours toward our Soldiers and families," he said. Her work as the unit FRG leader was so noteworthy that Wood nominated her for spouse of the year. She ended up being selected as the 2017 Military Spouse of the Year for the National Guard and went on to compete with all military branches.
"This is our third deployment," Knutson said of his wife, "She's finally been given the accolades she deserves for all of the work she's done over the years."
The Knutsons were married for a year with a brand new baby when Tom was deployed to Iraq for a nearly two-year long deployment in 2005. He deployed to Iraq again in 2011, and now with four children, deployed a third time, this time to Afghanistan.
"It's all about adapting," Rhiannon said of her experiences over the years. The kids were at an age this time where they understood that dad was gone, she said. It made it a little more challenging because now they were asking more questions. She shared ways she was able to make Tom's absence easier on her kids.
"We had a deployment wall with a map of all the places he went… we had a white board where we would write down things they wanted to tell dad the next time he called," she said. The family had clocks on Afghanistan time, so they knew what time it was there, jars where they had colored pebbles for each day of the deployment, and many other things to help the family keep track of the deployment along the way.
"We made it fun for the kids," she said. "It made it easier." And, she recommended other families who have deployed Soldiers to do the same to keep the kids involved.
Even after three deployments, the Knutson family said it's still challenging to reintegrate back into the normal routine, but they are using their past experiences to overcome common issues. The National Guard wants to help make the transition back to civilian life as easy as possible for Soldiers and their families. After the welcome home ceremony that day, Soldiers and families attended information sessions to learn about techniques that would help ease some of the common difficulties associated with the transition. They were informed of benefits and programs available to returning Soldiers and families.
Families are advised to use resources available, including Military One Source and local Yellow Ribbon Networks.