Minnesota aviators participate in Talisman Saber 17, lay foundation for Warfighter Training Exercise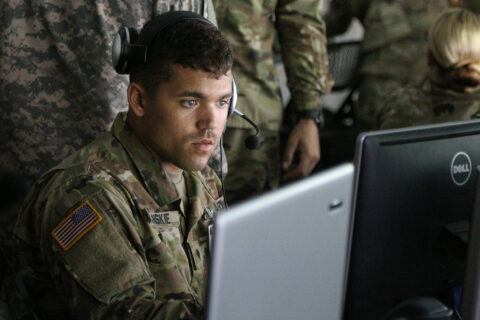 By 1st Lt. Eric Jungels
34th Combat Aviation Brigade Public Affairs
CAMP ATTERBURY, Ind. (July 25, 2017) – More than 140 Soldiers of the Minnesota National Guard's 34th Combat Aviation Brigade recently wrapped up participation here in the seventh iteration of the biennial training exercise Talisman Saber.
The St. Paul, Minnesota-based Soldiers were among 33,000 U.S. and Australian military personnel who convened in multiple locations around the world to support and engage in the event made up of field training and command post exercise components.
Unit members of the 34th CAB, which is adept at providing a wide spectrum of aviation support, took part in the command post exercise and used the training as an opportunity to focus on air-ground integration — or synchronizing aviation operations into the scheme of maneuver planned and conducted by forces on the ground.
In this case, the units on the ground were being commanded by the Rosemount, Minnesota-based 34th Red Bull Infantry Division. In total, more than 700 Soldiers that fall under the Red Bulls, including some from the 1st Armored Brigade Combat Team, were involved in the high-level military operations and synchronization training.
Taking place once every two years, Talisman Saber is a bilateral training exercise jointly sponsored by the U.S. Pacific Command and Australian Defence Force Headquarters Joint Operations Command. The U.S. views its alliance with Australia as an anchor of peace and stability, and the biennial training event is designed to increase both countries' ability to plan and execute various operations, including combat missions, terrorism response and humanitarian assistance efforts.
For the 34th CAB and the 34th ID, Talisman Saber helped to lay the foundation for a future Warfighter exercise (WFX), which is an essential training event that ensures the ability to provide command and control of units conducting combat operations.
"Talisman Saber gave our team a great opportunity to work through various staff processes and battle tasks," said Col. Shawn Manke, 34th CAB commander. "We identified challenges for the staff to analyze and overcome, and we established the groundwork for a more successful Warfighter rotation."
The WFX is a command and control exercise scheduled to take place over two weeks in 2018, but Manke's staff has developed a rhythm and culture of continuous learning, and they're already focused on opportunities to hone their skills and progress as a team.
"We're constantly looking to improve," Manke said. "That includes improving information flow and processes within the staff and between higher commands and subordinate units."
Talisman Saber provided a valuable chance to conduct operations in a combined, joint and interagency environment. Synchronizing efforts among multiple command echelons — particularly with the 34th ID– increased the CAB's ability to plan and execute multiple contingency response efforts.
"Our time at Camp Atterbury provided us with a chance to look inward and evaluate our ability to react to a variety of battlefield scenarios," said Lt. Col. Corby Koehler, 34th CAB executive officer. "The team performed well, and made good use of this annual training period."
The CAB's resolve will be tested when they face a new set of scenarios and challenges on the virtual battlefield at WFX.
"Going forward, we'll continue to focus on sharpening synchronization and execution capabilities,"Koehler said. "There's always room for improvement, but the 34th ID and higher can continually rely on the CAB to plan and provide expert aviation support."