Minnesota-based Combat Aviation Unit Soars into Battle Phase of Bilateral Training Exercise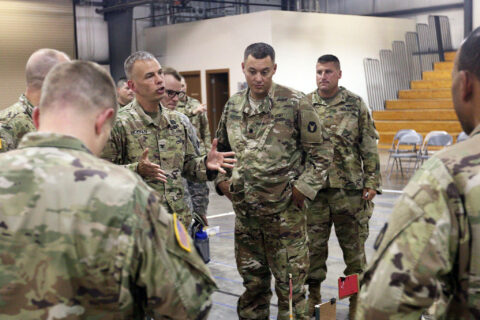 By 1st Lt. Eric Jungels
34th Combat Aviation Brigade Public Affairs
CAMP ATTERBURY, Indiana (July 16, 2017) – More than 140 Soldiers of the Minnesota National Guard's 34th Combat Aviation Brigade have established a presence at Camp Atterbury, Indiana, where they are supporting and engaging in high-level military operations and synchronization training.
Members of the St. Paul, Minnesota-based aviation unit, which is adept at providing a wide spectrum of aviation support, recently dove into the battle phase of the bilateral training exercise Talisman Saber 17. Throughout the exercise, much of their training will focus on air-ground integration — or synchronizing aviation operations into the scheme of maneuver planned and conducted by forces on the ground.
"Air-ground integration is absolutely paramount to the success of the U.S. Army," said Col. Shawn Manke, commander of the 34th CAB. "Aviation brings that third dimension to the fight, by supporting units on the ground and helping them to overcome multiple dilemmas."
In this case, the units on the ground are being commanded by the Rosemount, Minnesota-based 34th Red Bull Infantry Division, which is also supporting and participating in the seventh iteration of Talisman Saber. In total, more than 700 Soldiers that fall under the Red Bulls, including some from the 1st Armored Brigade Combat Team, are taking part.
Talisman Saber is a biennial training exercise jointly sponsored by both the Australian and U.S. military. This year, more than 33,000 personnel from various organizations, including the U.S. Army, Air Force, Navy, Marine Corps and the Australian Defence Force, are convening in multiple locations around the globe to conduct operations in a combined, joint and interagency environment. The U.S. views its alliance with Australia as an anchor of peace and stability, and this training is designed to increase both countries' ability to plan and execute various operations, including combat missions, terrorism response and humanitarian assistance efforts.
The Minnesota National Guard has a long history of supporting a variety of critical, real-world contingencies. The organization has consistently demonstrated key competencies in war fighting, developing partnerships and protecting the homeland. With units participating in Talisman Saber, the Minnesota National Guard has an opportunity to strengthen these competencies, as the U.S. and Australia continue to explore ways to strengthen our alliance and more effectively respond to shared challenges — both regionally and around the world.
Combined arms rehearsals at Camp Atterbury have been conducted in front of Brig. Gen. Dirk Kloss, deputy commanding general of the 34th ID, who highlighted the importance of synchronization among various players on the battlefield.
"We're really looking to get a shared understanding with our staff element, as they make a planning effort to conduct unified land operations," Kloss said. "[They] are the principles and components of how we fight and win wars on the ground."
Staff members from the CAB have taken their various roles in planning and conducting aviation operations seriously, and share an objective to positively impact the contingencies our ground forces face.
"Our goal is to make them successful in what they need to do, by eliminating or reducing threats imposed on them, so they have the freedom of maneuver to do what they need to do," Manke said. "We provide extra momentum, at times, and that extra capability that not every army can afford or has the capability to do."
Camp Atterbury and some bouts of inclement weather have provided 34th CAB Soldiers with a unique environment as they work to become more proficient in various staff and battle tasks.
"It's an opportunity to focus the staff and put them in a realistic situation, working with the systems that they need to use and understand to be successful in an austere expeditionary environment," Manke said.
"One of the best opportunities that we have is to strengthen the integration of the staff," Manke said, noting the receptive attitudes of his team members. "We have a great staff. They're here to learn and improve themselves. Knowing that we're not actually maneuvering people makes it an opportunity to learn in a low-threat environment. We're here to improve ourselves, so we improve the greater Army as we move forward."