Minnesota National Guard contract acquisition team to deploy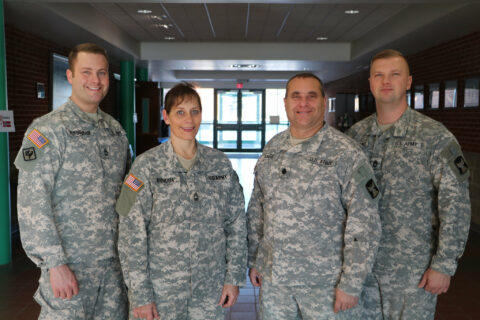 By Capt. Melanie Nelson
347th Regional Support Group Public Affairs
CAMP RIPLEY, Minn. (Jan. 15, 2017) – Four Soldiers from the Minnesota Army National Guard's Little Falls-based 1903rd Support Detachment, 347th Regional Support Group will deploy for a nine-month contracting mission at Camp Arifjan, Kuwait, in support of Operation Freedom Sentinel.
"The Soldiers are motivated, trained and ready for their upcoming mission. We will contract for the necessary services and supplies to support the warfighter," said to Lt. Col. Michael Lange, the team commander.
"The four member team is highly educated and skilled in purchasing," said Lange. In order to be in the Acquisition Corps, Soldiers need to have a degree and years of certified experience. Contracting specialists also are required to maintain continuing levels of education. Each member of the team has more than six years of professional contracting experience.
While in Kuwait, the team will support the 408th Contracting Support Brigade whose mission is to supervise, administer and support contingency contracting operations in theatre.
The Soldiers will depart for pre-deployment training mid-January at Fort Hood, Texas. They will begin their mission in Kuwait by in February.